Cloudwalker
High up in the sky, beyond the clouds, a Sentry monitors the battlefield, restlessly pinpointing incoming enemy troops. It is said that its flight is powered by state-of-the art anti-gravity boots… But in a time where resources are scarcer than ever, is that technology really sustainable ?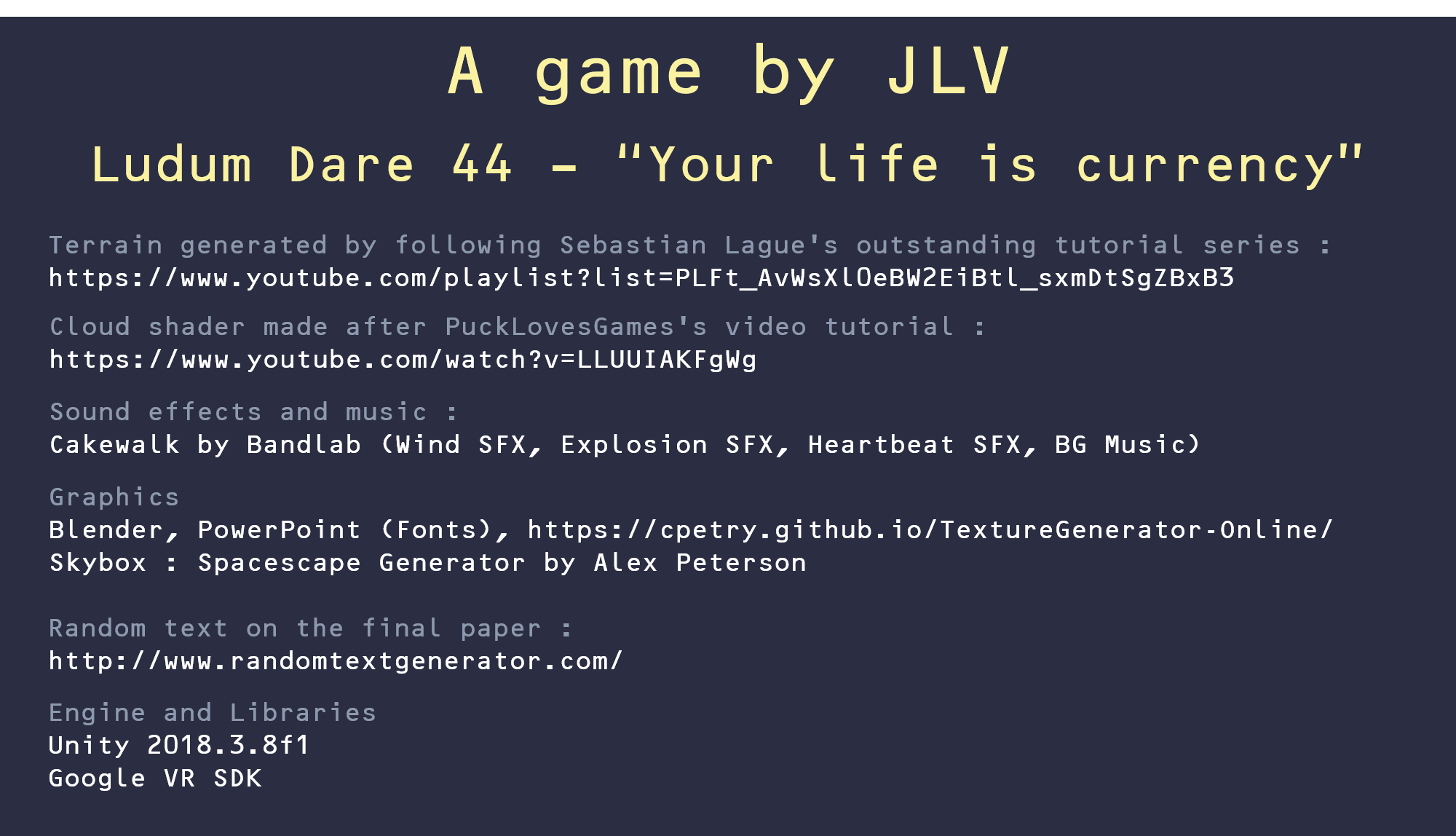 In Cloudwalker, your goal is to spot incoming ennemies. Day after day, you will receive new communications from your commander. Keep in mind that flying is not free : watch your energy level closely.
Communicate with your commander day after day.
Watch out for ennemies from your aerial position.
Keep track of intruders with your cursor to pinpoint them. Past a certain number of identified ennemies, the story will move on.
Reach the end of the game and discover secrets !
This game was developed with mobile VR (Cardboard) in mind. As such, even in the HTML5 version, all interactions are based on the direction you are aiming for. To activate a button or identify an enemy, just keep your cursor on it (on PC) or keep your gaze on it (in VR).
This game was made in 48 hours for the 44th Ludum Dare (theme : Your life is currency"). Thanks for playing !

Platforms availables :
HTML5 : Quality might be lackluster, but the whole experience is there. However, mouse problems persists on Chrome, so I would advise to use Firefox.
Windows (Recommended) : Three builds are available (mostly due to the impact of the cloud on the overall performance) ; the high-quality is neat if you have a solid graphics card. The medium-quality build should be at ease in most computers, from high-end integrated graphics to medium-range GPUs. The low-quality build is the perfect fit if you either do not care about clouds, or favor framerate above all.
Android (Cardboard) : Due to its control scheme, the game is fit to be played in VR. Graphic quality is quite bad, as to allow for impeccable framerate.
In HTML5, Windows LQ, and Android, the clouds are not displayed for the sake of fluidity.